Characterized by red, itchy patches of skin, Psoriasis can affect anyone of any age. It is unpredictable, irritating and often induces panic. But being better informed about Psoriasis should help you not worry too much.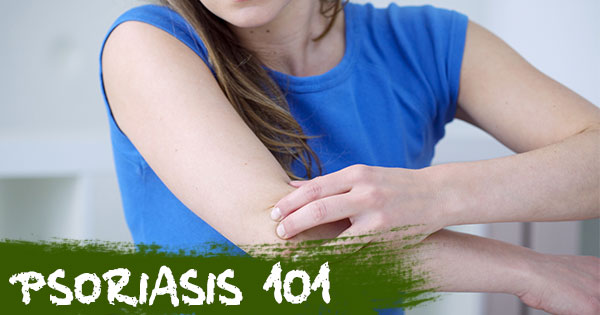 Get down to the details of this common skin condition, with these basics and bits that you need to know about.
Psoriasis and Its Probable Cause
Psoriasis is triggered by faulty messages from the immune system. These messages affect skin turnover, causing an overproduction of skin cells and the piling up of (and over) dead skin cells.
Experts have yet to discover what causes this faulty messaging from the immune system, but one of the most popular theories behind, is that genes are responsible for it. So if you have someone in the family with Psoriasis, there's a chance that you may have the skin condition too.
Other factors that dermatologists are looking at include:
-viral or bacterial infections
-sudden changes in the weather
-smoking
-stress
-use of certain medications
Types of Psoriasis
There are multiple types of psoriasis, but the official list includes only the following:
Plaque Psoriasis
Plaque Psoriasis is most common of all types with raised, red patches on the elbows, knees, lower back and scalp.
Guttate Psoriasis
Translation "drop" in Latin, Guttate Psoriasis is recognizable by its teardrop-shaped spots and silver scales. The commonly affected areas are the torso and limbs; sometimes spots may also appear on the face and scalp.
Guttate Psoriasis usually starts showing symptoms in early childhood or young adulthood.
Inverse Psoriasis
Inverse Psoriasis appears as shiny, smooth, red lesions in the body or skin folds such as the armpits, the groin area and under the breast. This type of Psoriasis is also known as Flexural Psoriasis.
Pustular Psoriasis
Pustular Psoriasis owes its name to its characteristic and appearance of white pustules surrounded by red skin. There are three subcategories under this type, each having different sets of symptoms, as well as severity.
Pus-filled blisters will need medical attention for treatment and management.
Erythrodermic Psoriasis
This rare inflammatory type of Psoriasis can develop over the entire body. Symptoms include widespread redness, pain, and severe itching.
How to Treat Psoriasis
Three details that need to be very clear about Psoriasis: 1.) it's not a skin disease, 2.) it's not contagious, 3.) it has no cure, but the pain and itch can definitely be minimized and managed.
The type of treatment is prescribed according to the kind and severity of Psoriasis, as well as the area of skin that's affected. Obviously, serious cases require more complex procedures and the attention of a health or skin professional. For those requiring mild treatment, however, your doctor will most likely recommend the usage of a topical cream or product.
Dermatologically-tested safe and effective, Moringa-O2 Hair, Scalp and Skin Therapy Oil uses the natural benefits of moringa (malunggay), olive oil and omega (from Sunflower oil) to deeply nourish and moisturize dry skin and scalp, regulate skin cell production and turnover, and soothe itch. Simply use the product after taking a shower.