Natural skin care is a train that's unstoppable and collecting a great number of passengers. Brands and products are picking this up, learning for themselves that what DIY beauty mavens claim about natural skin care is true and can be furthered or developed.
Take the Moringa-O2 hair and skin care system for one. Each product has a powerful blend of Olive Oil, Omega from Sunflower Oil and the very potent ingredient of Moringa Oil.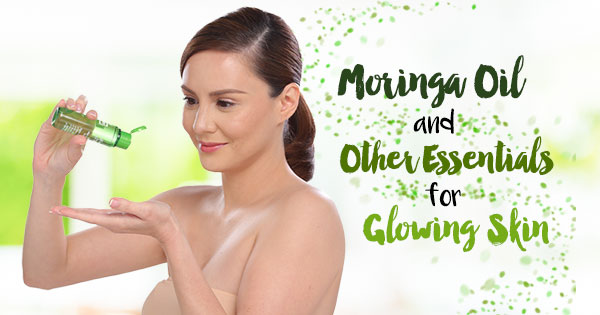 MORINGA OIL
Moringa Oil has excellent cleansing, moisturizing, nourishing and anti-inflammatory properties. Thanks to the abundance of nutrients, minerals and antioxidants that it carries. This makes Moringa Oil a great active ingredient for any skin care product as it conditions skin to be clear, soft, supple, young-looking and free from dark spots and blemishes.
Although one of the best for health, hair and skin, Moringa Oil is just one of the many natural and essential oils to get a healthy and glowing skin.
OTHER ESSENTIAL OILS
Argan – good moisturizer for hair, skin and nails
Almond (Sweet Almond) – promotes even skin tone by removing dead skin cells
Aloe Vera – remedies dandruff and eczema, and soothes other skin irritations
Arnica – relaxes muscles and relieves swelling and bruising
Avocado – rich in omega-3 fatty acids and antioxidants that fight off free radicals
Calendula – anti-inflammatory, reduces redness, minimizes swelling and fights free radicals
Carrot Seed – detoxifies the skin, protects it from the sun, and stimulates cell growth
Castor – seals in moisture for hair and promotes the growth of strong and healthy strands
Chamomile – calms and soothes skin irritations thanks to it Azulene content
Coconut – has anti-bacterial properties in a consistency that's ideal for a DIY lotion
Eucalyptus – has healing, calming, as well as insect-repelling properties
Evening Primrose – best for eczema with its abundance in fatty acids
Geranium – anti-ageing as it encourages skin renewal and firms loose skin
Grape Seed – has astringent properties and good for acne-prone skin
Jasmine – brightens skin and improves its elasticity
Jojoba – regulates the skin's natural process and production of oil
Lavender – relieves headaches and minimizes hair loss or hair fall
Olive – remedies eczema and promotes a youthful complexion
Peppermint – Soothes headaches and alleviates allergic reactions
Rose Hip – remedy for stretch marks as it rejuvenates skin and keeps its elasticity
Rosemary – stimulates blood circulation, relaxes muscles and eases joint pains
Sesame – good for wind and sunburn, and fighting off bacteria
Tea Tree – effectively fights infections, and kills bacteria
Thyme – a simple, natural solution for acne
Ylang-ylang – protects healthy hair growth, as well as against the damaging effects of chlorine in a pool and salt in ocean water
Get the best of what Moringa Oil, Olive Oil and Omega (from Sunflower Oil) can offer with Moringa-O² Hair, Scalp and Skin Therapy Oil!