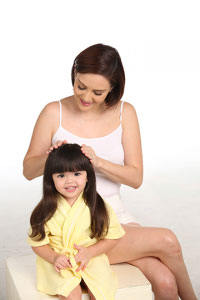 Your little ones deserve the best care possible, and that includes their skin and hair.

Skin and hair care routines are important in general, but this is even truer for children. This is because their skins are sensitive, making them very susceptible to irritation or even damage. That's why a healthy, safe hair and skin care routine for kids should be gentle and free of irritating ingredients.
For safe, healthy and fuss-free bath time with your kids, here are some helpful tips:
1. Be on the lookout for common irritants.
No matter how pretty the packaging is, not all kids' soaps and shampoos are as safe as you think. Be sure to read the labels and check for harmful ingredients like SLS (sodium laureth sulfate), SLES (sodium lauryl ether sulfate) or parabens. Soaps and shampoos in pleasing colors that appeal to the kids are also likely to contain coloring agents that can cause problems for your little one's sensitive skin.
2. Determine your child's hair type.
Hair products tend to be geared towards hair types, so it's best to determine what type of hair your child has beforehand. For example, if your child's hair appears coarse and frizzy, they most likely have dry hair. For that, a gentle shampoo like Moringa-O² Herbal Shampoo may be appropriate.
3. Invest in quality haircuts.
If the haircut is bad, there's very little you can do to make it look good. Take your little one to a qualified professional can be pricey, but spending money for a quality cut that's easier to manage is definitely a good investment.


4. Use sun protection.
Sun exposure is especially damaging to children's' skin because their developing immune systems make them more susceptible to sun damage and sunburn. Again, be sure to check the labels on sunscreen for kids. Look for a broad-spectrum sunscreen with an SPF of 15 or higher with the active ingredients titanium dioxide and/or zinc oxide.