Dry skin isn't just a cosmetic issue. It can be an unpleasant or uncomfortable experience for those who have it.
So, if you want to find out how to relieve dry skin, do continue reading!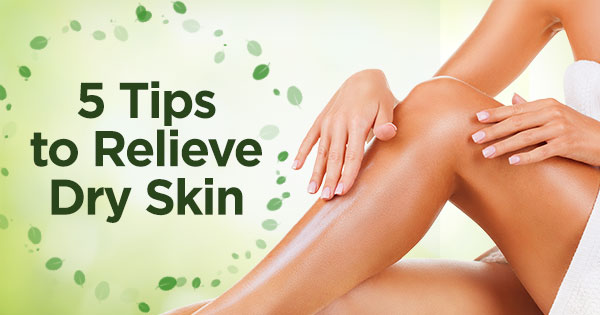 Out of all the skin types, dry skin would definitely not be the type people aspire to have. Not only does dry skin appear dull, it also tends to be irritating and uncomfortable. In some cases, dry skin is marked by itching, scaling, or even cracking.
While some people have naturally dry skin, it can also occur for other reasons. For example, cold weather where the air is dry can leave your skin parched. Harsh soaps and irritants like laundry detergents or fabric conditioners can also cause dryness as well.
How to relieve dry skin
Your skin care routine should be tailored based on your skin type. So if you have dry skin, you may need to make certain changes to your regime.
Soothe your dry skin with these tips:
1.    Use gentle cleansers.
Soaps, toners, and peels may be too harsh on dry skin. As much as possible, use cleansers that are formulated for dry skin. Also, avoid scrubbing too much or too hard.
2.    Take care when shaving.
Shaving unwanted hair means also scrapping off your body's natural oils, so shaving may irritate or worsen dry skin. Shave after you shower, using a shaving cream or gel, and a sharp razor.
3.    Get sun protection.
Sun damage is one of the main culprits responsible for a slew of skin problems, including rough and dry skin. Don't forget to apply a broad-spectrum SPF30 sunscreen before going out, even during cloudy days.
4.    Avoid hot showers.
Hot showers are relaxing, but it can also dry out your skin. When showering, use warm water and limit your bath time to 5-10 minutes. Dry off by patting your skin with a towel; not by rubbing vigorously.
5.    Apply moisturizers after you shower.
Skin absorption is best after a warm shower, so this is the best time to apply your lotions, oil, or serum.
What Causes Dry Skin?
If your current skincare routine is non-existent or has barely any positive effects, then it might be helpful to consider switching up. Apart from following the five tips above, it will also help you combat skin dryness by knowing what exactly causes it.
Here are the main factors that contribute to dry skin:
Weather or seasonal changes such as extreme cold and hot temperatures can cause dry skin. But it will usually be during the coldest weather temperatures when humidity in the air drops and the skin feels the driest. However, it is also worth noting how hot weathers can reduce humidity as well.
Bathing with hot water is also a no-no, as it strips the body of its natural oils, causing it to feel dry and void of moisture.
Using harsh soaps and shampoos can cause dryness in the skin as it is formulated to remove the excess oil in the body, which unfortunately removes all moisture as well.
Skin conditions like eczema and all its various forms will also cause the skin to dry up and easily feel irritated and itchy.
That being said, there are many ways to address these issues, and we're here to help you discover what works best for you.
Dry Skin Treatment Through an Herbal Skincare System
While there are different products out there in the market to address dry skin, you aren't exactly sure if these products contain harsh chemicals that can only aggravate the condition of your skin. That being said, Moringa-O2's skincare line boasts of a gentle yet effective formula that utilizes nothing but nature's most powerful extracts.
Address the issues right away before they develop into problematic skin conditions like eczema. Use an herbal moisturizing soap for dry skin that provides multiple health benefits such as antioxidant, antibacterial, and anti-acne properties.
Our Herbal Soap for Acne is safe to use on the face, neck, and body. It is dermatologically tested, which makes it perfect for daily use. Recommended for Filipinos with dry or sensitive skin, this herbal soap can help you address dryness through the powerful combination of moringa oil, sunflower oil, and olive oil. This trio of nature's extracts provide the following vitamins and minerals:
Vitamin A
Vitamin B or thiamine
B2 or riboflavin
B3 or niacin
B6
Folate and ascorbic acid in Vitamin C
Calcium
Potassium
Iron
Zinc
Magnesium
Phosphorous
And these are just a few of the nutrients found in the herbal soap! At the end of the day, you will want a soap for dry skin that effectively locks in moisture in the skin, helping you protect it from the sun's harmful UV rays.
Moringa-O2 also offers a lotion for dry skin, which you can use every day to complement the benefits of the herbal moisturizing soap.
The Herbal Moisturizing Lotion is packed to the brim with herbal actives for ultimate UVA/UVB protection. It is the perfect partner to the moisturizing soap, as it provides a combination of powerful oils, vitamins, and minerals, which addresses dull, dry, and sensitive skin. This gives you youthful-looking, radiant, and glowing skin without any irritation.
The herbal lotion penetrates the surface of the skin and keeps moisture in for extended periods, allowing you to go about your daily activities, relieving you from the itchy sensation that occurs with dry skin. It can also help address the symptoms of skin asthma or eczema.
And for the best protection from dry skin, use the lotion after bathing with the moisturizing soap while the skin is damp. This helps lock in hydration as it nourishes your skin with nature's essential oils and extracts.
When you come home after a tiring day outdoors, it helps to hit the shower and cleanse the body of dirt and grime, but avoid bathing in hot water if you want to avoid dryness. For optimum results, remoisturize the skin with the Moringa Herbal Therapy Oil in the evening.
The herbal therapy oil contains antibacterial, antiseptic, and anti-inflammatory properties that aid in nourishing the skin and protecting it from dryness before it even develops into terrible skin conditions like eczema. It is dermatologist-tested as well, and 100% paraben-free, which means it's safe to use every day for all skin types.
If you're experiencing excessive oil production in the skin or scalp, or have dandruff and flaking, massage a liberal amount of the therapy oil unto the affected area and allow the skin to absorb it overnight. This allows the body to heal and recover as the skin is rejuvenated by the herbal actives that address issues of dryness, itchiness, and painful skin.
Once you know how to address what causes dry skin, you can try out these options, and if Moringa-O2's skincare regimen does not do any wonders for your skin, here are more alternatives that you can do at home.
Treat Dry Skin with These Additional Tips
When in the bathroom
It bears repeating that when bathing, be sure to close the door to keep moisture from dissipating into the rest of your home, and always avoid using hot water. Limit your time bathing to no more than 15 minutes. Use gentle products that are fragrance-free and just use enough product to remove dirt and oil to prevent dryness. As much as possible, stick to herbal and organic skincare products to prevent irritation.
When you're done, pat your skin gently and dry it off with a soft towel and immediately apply moisturizer for better water retention in the skin.
Moisturize, moisturize, moisturize
Echoing tip number five, use a moisturizing ointment or cream with any of the following ingredients:
Jojoba oil
Moringa oil
Dimethicone
Olive oil
Argan oil
Glycerin
Sunflower oil
Hyaluronic acid
Lactic acid
Mineral oil
Shea butter
Lanolin
Petrolatum
And when possible, use gentle and mild skincare products. Always read the label before purchasing and inspect the ingredients. "Unscented" doesn't always mean safe, and it it's not the same as "Fragrance-free." Avoid smothering your hands with alcohol, AHA's, and retinoids to retain the skin's natural oils.
Glove up when necessary
So while we're not necessarily treating dry skin here, it is a protective measure that helps reduce the issues that can cause dryness, especially in the hands. Hand dermatitis is a specific type of eczema that causes the hands to crack, break, and develop fluid-filled blisters due to dryness.
Especially when your job entails you to handle chemicals such as detergents or substances like nickel and other metals, it helps to put on gloves to shield your digits from irritants and allergens that can potentially harm the skin.
Choice of fabrics
Another simple tip to consider; you can always consider wearing comfortable clothing, such as loose cotton and silk fabrics. And when doing your laundry, be careful with the detergent that you use as well, as these can seep into your clothes and cause irritation upon contact with the skin. Look for detergents with hypoallergenic properties to be sure, as these irritants can cause contact dermatitis.
Humidifiers can help add moisture in the air
Lastly, using a humidifier can also help keep your skin from dryness by keeping humidity levels in your home stable, thus allowing your skin to lock in moisture better.
In the Philippines, where the temperatures during the afternoon can soar to sweltering degrees, it helps to have additional moisture in the room. However, this tip will only work if you're also making sure to keep your skin moisturized with the right skincare products.
Wrapping Up on How to Relieve Dry Skin with Moringa-O2
Now that you're aware of how what causes dry skin, arm yourself to effectively keep your skin moisturized with these simple tips combined with an herbal skincare regimen. From protecting your skin with gloves and choice fabrics, you also have a wide range of options to keep your face, hands, arms, legs, and body moisturized.
For more hair, scalp, and skincare tips, feel free to visit our blogs page.
And if you're interested in finding out more about our products, don't hesitate to contact us today! We'll get back to you ASAP.